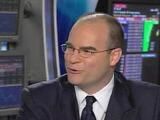 Michael McCarty is the founding member and chief strategist of Differential Research. An independent provider of derivative research for institutional investors. Differential Research was founded to capitalize on the growing importance of risk and volatility analysis in the investment process.  Mr. McCarty is a frequent guest on BloombergTV, Fox Business News and CNBC, in addition to being quoted regularly by the financial press. Mr. McCarty also speaks frequently on the topics of risk and volatility at investment industry conferences. Mr. McCarty is also the author of the forthcoming book "Risk On, Risk Off: Volatility Trading Strategies to Enhance Portfolio Performance" (Bloomberg Financial)/Wiley.
Michael McCarty was formerly  the Chief Strategist at Meridian Equity Partners, an independent broker dealer. As director of the firm's Option Market Operations, Mr. McCarty published two widely-read notes per day, targeting on the US marketplace and uncovering Noteworthy Option Activity.
Born in the Republic of Panama and raised in Central Florida, Mr. McCarty's fascination with the financial markets came early on, first studying finance and history at Emory University, then obtaining a Masters Degree in Finance from New York City's Baruch College – Zicklin School of Business. His vast knowledge and deep understanding of the equity and derivative markets, the result of a twenty-five year Wall Street career as sales-trader, analyst and market strategist has allowed him to accumulate a significant following of the most respected and accomplished investors worldwide.
Mr. McCarty now lives in Austin, Texas and New York City.
Copyright secured by Digiprove © 2013 Michael Mccarty